Water Sports
---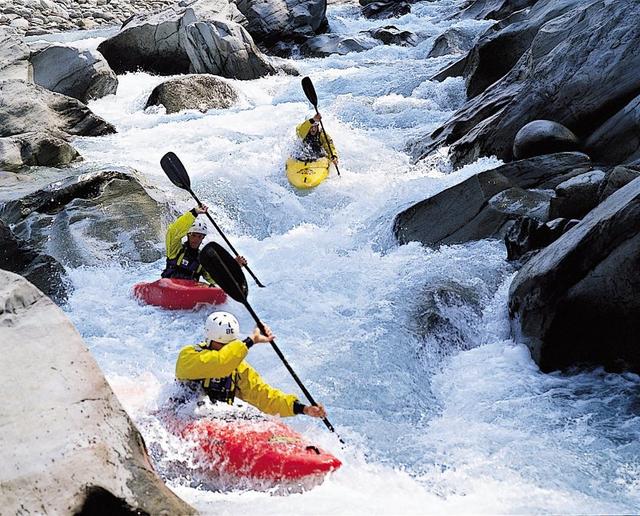 With its many lakes and rivers Piemonte is a good place to practice water sports. The region is home to the source of the Po, the Italy's most important river, and hundreds of torrents and streams flow. In high season, the Maggiore, Orta and Mergozzo lakes are frequently visited by foreigners who enjoy sailing, water skiing and windsurfing.
Rowing has a long tradition in Torino, where the first rowing club, the Cerea Royal Society, was founded in 1863. It was one of the first Italian rowing clubs, and first seat of the Italian Rowing Federation, that had been based in Torino until its final location in Rome in 1957. The International Federation of Rowing Associations (Fisa) was also founded in Torino in 1892.
Nowadays, many rowing clubs are based along the river banks, some of them offering free trials. Rowing races take place throughout the year. The rowing clubs organise also a torchlight procession on the river during the celebrations for St. John, the patron saint of the city of Torino.
Kayak, riverboarding and rafting: Narrow ravines cut into the rocks and water falls intrude on the peaceful flow of the streams. Piemonte Alpine mountain range is full of streams which attract white water and adventure buffs. The best places in the region to raft, kayak or riverboard are Stura valley, Susa valley, Valsesia and Ossola valley. Beginners and who wants to give it a try, can turn to classes and clubs which supply the necessary equipment and instructors for their first experience.
Fishing: Everything needed for freshwater fishing is available in Piemonte. Streams in the woods, great rivers in the plains, small mountain lakes and large lakes abound. Natural beauty ranges from the majestic mountains to the gentile hills. In Valsesia, you can walk to a charming mountain lake, called Lake Rimasco, at an altitude of 2,000 meters.
In a different, again at high altitude, in Cuneo a recommended stop is at Certosa di Pesio, an amazing 17th century building that serves as the entryway for the Parco Naturale Alta Valle Pesio e Tanaro. This corner of paradise provides a relaxing atmosphere for trout fishing.