Agrifood
---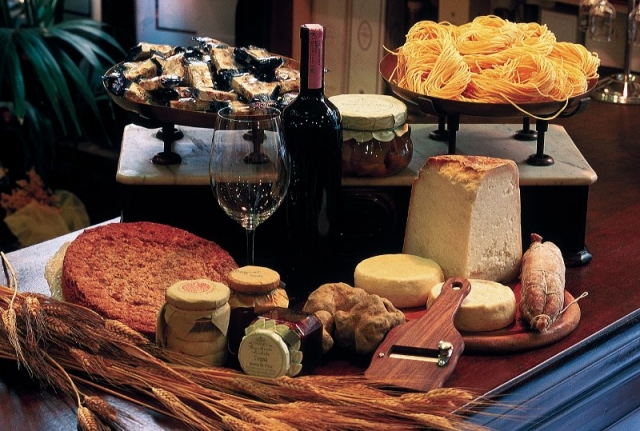 Products of the highest calibre, like wines, the white truffle from Alba, the Piemonte hazelnut IGP, chocolate…, together with renewed entrepreneurial flair have made Piemonte an unmissable destination for all those who love good food and the good life.
Slow Food, the association dedicated to protecting local cuisines and traditional products, and the University of Gastronomic Sciences in Pollenzo, an international training and research centre and the only one of its kind worldwide, are both based in Piemonte. Several major companies have also turned local Piedmontese traditions into globally successful brands: a few obvious examples come to mind, Lavazza, Martini & Rossi, Cinzano and Gancia (what's more, the latter invented spumante or sparkling wine).
Here, a passion for food is regarded as a virtue, not a vice. Even when the food in question is an icon of temptation: chocolate. The close link between Piemonte and chocolate dates back to 1587 when Duke Emanuele Filiberto di Savoia introduced court society to the refined custom of drinking hot chocolate. Since then, and even more from the early 18th century, Turin and Piemonte have become one of the largest European centres of chocolate production. This historic voyage regarding chocolate also includes that combination of cocoa and hazelnuts that gave rise to the inimitable gianduiotto, which was traditionally hand-made, and another famous product, Nutella.
The whole world has learned to appreciate the great Piedmontese wines: the sumptuously refined reds (Barolo, Barbaresco, Gattinara, Barbera ...), the rounded and delicately scented whites (Roero Arneis, Gavi, Cortese ...), not to mention the pleasantly sweet and inviting dessert and 'conversation' wines (Asti Spumante, Brachetto, Moscato d'Asti, Malvasia...).
Flanking these wines is the king of Piedmontese cuisine: the truffle, a scented hypogeal fungus whose flavour enriches the simplest dishes and adds originality to more elaborate recipes. Piemonte's woods are home to the world's most prized variety of truffle, as well as several less prestigious kinds.
Find out more on:
Wines
Meat
Cheese
Rice and pasta
Vegetables, fruits and truffles
Bakery, cakes and chocolate