Outlets
---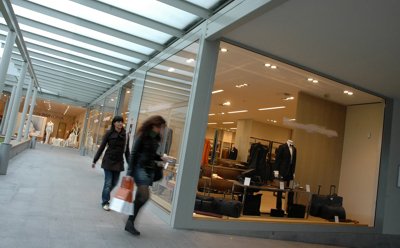 Torino Outlet Village (Settimo Torinese, Torino)
The last born outlet in Piemonte located only 10 minutes far from Torino city center and a little less than an hour from Milano. The Outlet boasts over 90 stores including the most prestigious Italian brands and trendy ones and a network of high-level shops that sell off price items and accessories in addition to offering flagship store services. Tailored services provided: valet parking, personal shoppers, hand-free shopping, home delivery, vat off, shopping by appointment, restaurants, a fully equipped children's area, a wellness and beauty salon as well as a modern business lounge.
Via Torino 160 – Settimo Torinese (TO)
Email: info@torinooutletvillage.com
Open Monday-Friday 10 a.m. - 8 p.m.
Open Saturday, Sunday and bank holidays 10 a.m. - 9 p.m
www.torinooutletvillage.com/en

Serravalle Scrivia (Alessandria)
The largest and most impressive outlet in Europe, Serravalle Designer Outlet has a commercial surface area of 50,000 square meters, more than 300 brand clothing, shoe and accessory stores, 3,000 free parking spaces, snack bars, restaurants, fast food, a playground and a staff of over 800 people.
Via Della Moda 1 - 15069 Serravalle Scrivia (AL)
Tel. +39.0143.609000 - Email: informazioni@mcarthurglen.com
Open daily 10 a.m – 8 p.m.
Closed on public holidays
www.mcarthurglen.com/it/serravalle-designer-outlet/en/

Vicolungo (Novara)
A shopping mall with 150 stores selling top brand clothing to linens.
Piazza S. Caterina, on the corner of Via Papa Giovanni XXIII 28060 Vicolungo (No)
Tel. +39.0321.835032 - E-mail: info.vicolungo@thestyleoutlets.it
Open daily, including holidays, from 10 a.m. to 8 p.m.
vicolungo.thestyleoutlets.it

The Place Luxury Outlet (Sandigliano, Biella)
This is the outlet for the most prestigious Italian designer labels like Ermenegildo Zegna, Agnona, Gucci, Sergio Rossi, La Perla and Vogart Sunglasses.
It is located in Sandigliano, near the city of Biella, and covers over 1,500 square meters. Vast selection of clothes, shoes and accessories for men and women, multi-lingual staff that is ready to cater for the needs of international customers, an playground for children and an excellent restaurant specialized in local cuisine. Turn a day of shopping into a total luxury experience.
Via Cesare Battisti 99 - Strada Trossi - 13876 Sandigliano (BI)
Tel. +39.015.2496199 - E-mail: info@theplaceoutlet.com.
Open daily: 3 p.m. - 7 p.m.
www.theplaceoutlet.com

Mondovicino Outlet (Cuneo)
A world within a world, a village of 85 shops in one of the largest shopping parks in Italy, created to please all the family. Fashion, accessories, sports apparel, furniture and decorative items are on sale with discounts ranging from 30 to 70%.
All products are guaranteed by the manufacturer.
Trademarks: Alviero Martini, Americanino, Datch, Mariella Burani, Parah, Sasch.
A6 Torino /Savona motorway - Mondovì exit.
Piazza Giovanni Jemina, 47 - 12084 Mondovì (CN)
Tel. +39.0174.553035 - Fax 0039.0174.564064 - E-mail: info@mondovicino.it
Open every day from 10 a.m. to 8 p.m. - Closed on Christmas Day, 1st January
www.mondovicino.it/en/